Please TAP on each card for your interpretation. Scroll down to view...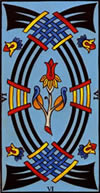 Past
Six of Swords
Past
You've felt small and overwhelmed by the storm waves of life. But although you have felt shipwrecked and lost in a hostile sea, the tide has begun to change, and it is pushing you towards a safe harbour.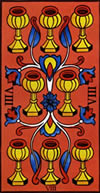 Present
Eight of Cups
Present
Something is out of balance in your life right now, even if it's not that obvious. Areas you might need to analyse are work, relationships or simply the place where you live. The time is right to rectify any imbalances.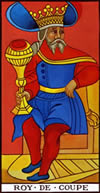 Future
King of Cups
Future
You will develop a sense of serenity to life. This will enable you to evaluate relationships and act accordingly, perhaps even advising others. If you have issues that need input, do seek advice from a calm and emotionally mature guide.