Please TAP on each card for your interpretation. Scroll down to view...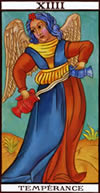 Past
Temperance
Past
You've been seeing other people's viewpoints a little too readily. You may have also been trying to please everyone except yourself, and this is causing some difficulties in the here and now. That you have been so willing to compromise is to your credit, but it should have been a two way process, not just you, and it wasn't.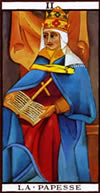 Present
The High Priestess/The Papess
Present
Try to look behind the illusion, what is really happening? Memories are so important for you now; they can give you understanding and inspiration. This is also a good time to follow your intuition and your instincts. Have you any talents you have been allowing to gather dust? Now would be a good time to explore and develop them.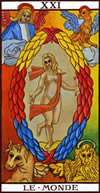 Future
The World
Future
How exciting! Your horizons will soon be expanding. Relationships and creative enterprises show a very strong potential for development. This card suggests that you may be travelling some distance in the future. Emotionally, physically and spiritually you will be exploring all the world has to offer. If you stick to the right path happiness is yours. Break out the Bubbly!