On Monday 28th October at 3.38am GMT an amazingly intense New Moon in Scorpio is forged. Ordinarily, this New Moon would urge us to renew, replace, and regenerate but it is faced by the electrifying vibration of Uranus, so what does this mean for you?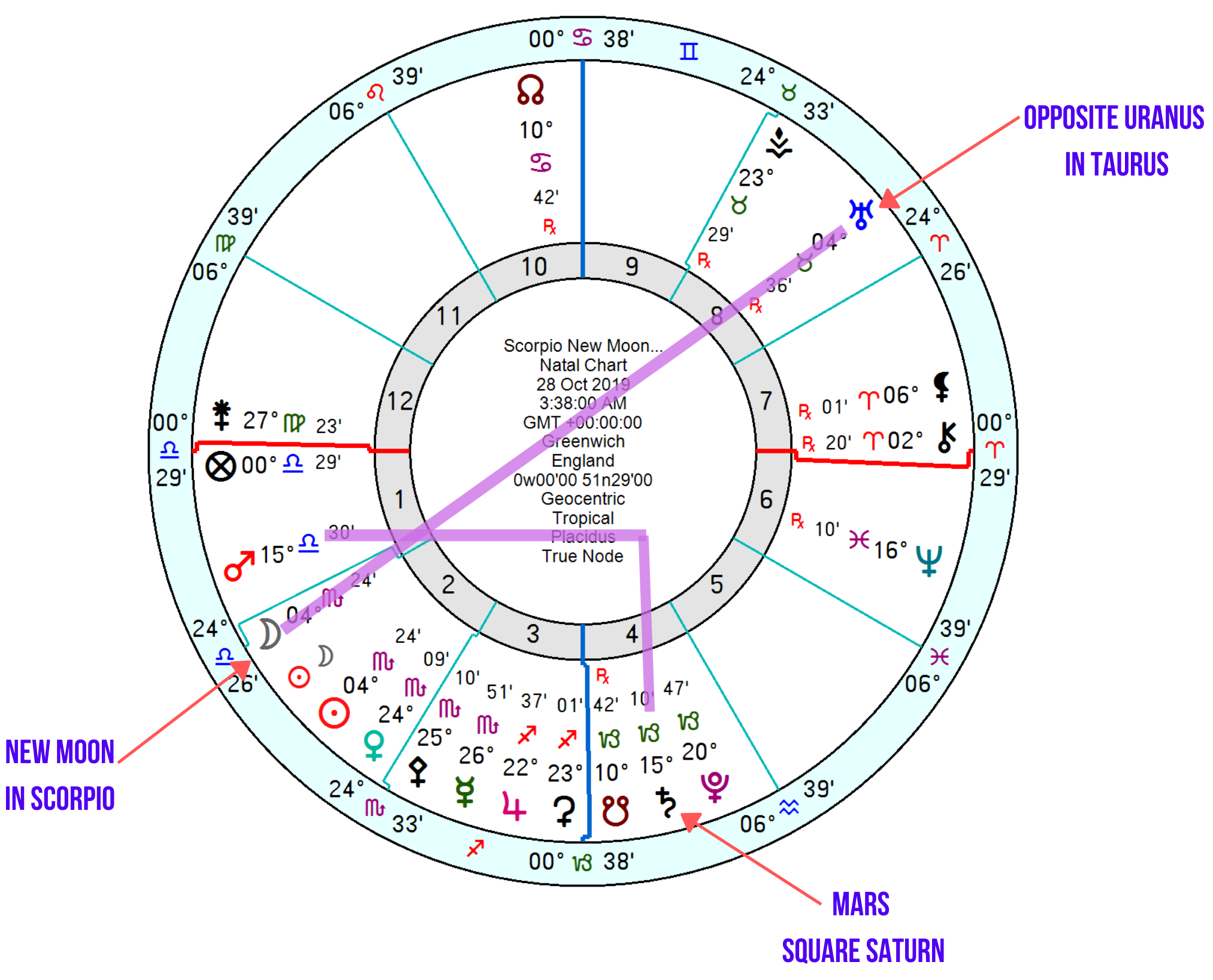 Scorpio energy is characterised by many things but one of them is desire, but some of these desires may not always be conscious, and something deep in the depths can be stirred by this potent combination. Why? Well, Uranus quite simply ramps up intensity, but also unpredictability. And the next month some of us can be moved to pursue, confront, leave or change a key element of our existence.

We could also encounter someone who is more wilful, radical or outspoken or we may find ourselves drawn to independent thought and action, which can emanate from deep within.
This may be a time when people can be drawn to more original business or financial opportunities, and thinking outside the proverbial box, could work really well. But others may feel threatened by someone's force of nature, their comfort or even relish in being different and being prepared to shock and confound.

Anything which has bound us in a way which has suppressed our freedom, be it a job, a pattern of life, our way of thinking, an addiction, a compulsion or a relationship could be broken free from, or the oppression take on a higher frequency.
Because the Sun and Moon (are in Scorpio, along with also Mercury, Venus and the masculine energy of the Asteroid, Pallas) and Uranus is in Taurus, there is a lot of Fixed energies here, which can create extra nervous tension, excitement or heightened emotions, it will be important for us all to flex. Think of the suspension bridge which is built with the ability to move in the wind, by doing so will create less resistance. Equally staying exactly as we are is probably not an option.
Mars, the ruler of Scorpio is also in a right angle or tense Square to the restrictive Saturn, and a Quincunx to Neptune, so facts and reality can be lost on the altar of dogmatism and forcefulness. The Ascendant for this New Moon is actually in Libra, and the diplomacy of this sign can be an excellent way to defuse some of the more electrifying vibes all this added energy can create. So a dramatic event is set unfold, and one thing it will not be is dull.