A Leo Full Moon occurs at 7.33am GMT on the 9th February, 2020 at 20 Degrees Leo. But this Full Moon has a fascinating extra dimension for the Ascendant is also in Aquarius, but the Sun is in the the tender 12th House. PLEASE SEE BELOW TO DISCOVER WHAT THIS MEANS FOR YOU…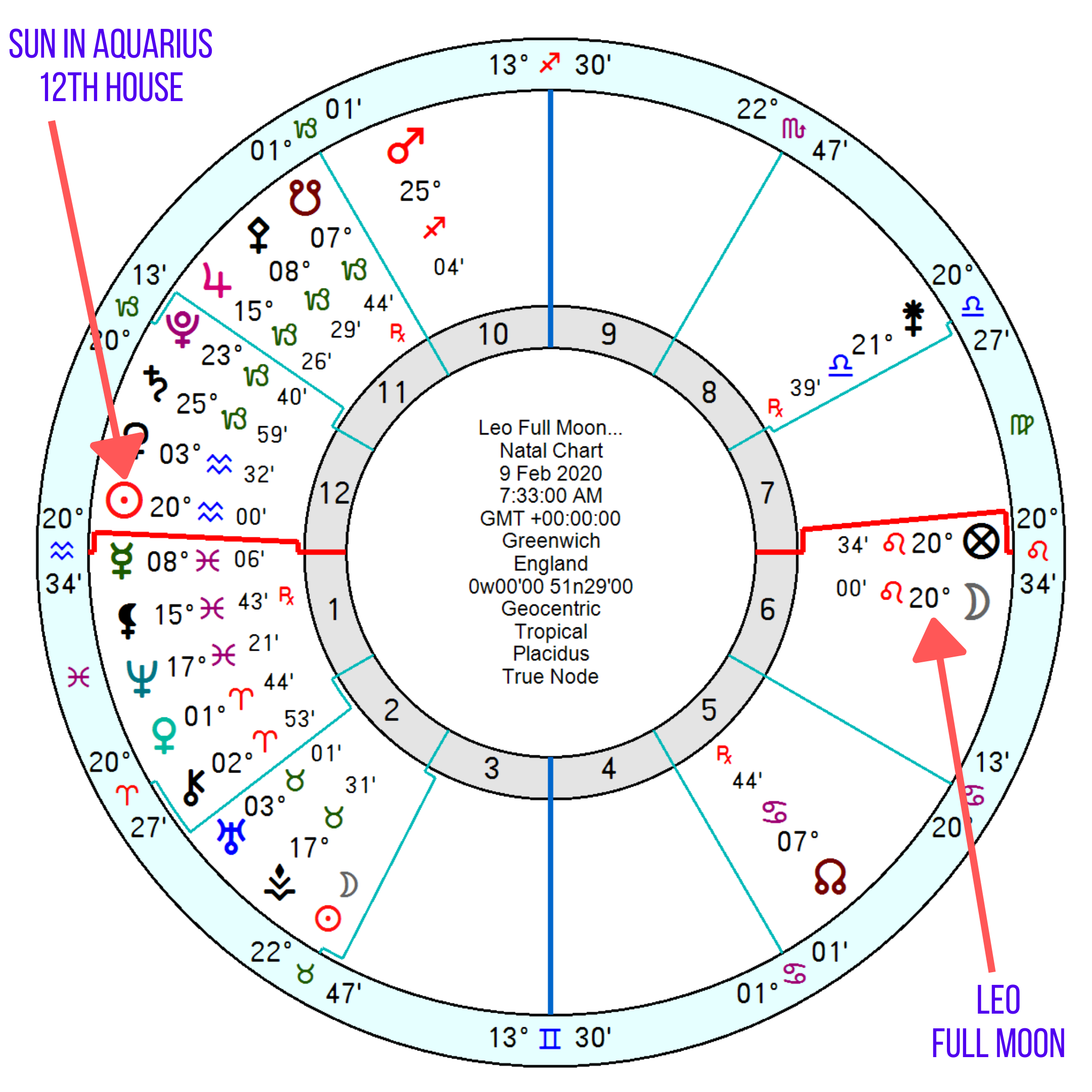 The Leo Full Moon brings to the surface our need to focus on our individual needs. The Sun in Aquarius represents the collective, so this can be a case of "I versus We". If our own individual talents, time, creativity, and personal hopes have got bogged down in the needs of others, group dynamics or the requirements of a partner, this can be a good time to re-balance. But then equally, if we have pursued our own agenda to the exclusion of others, we may find there are plenty of prompts to improve our connections over the next two weeks.

Along with the Ascendant and the Sun in Aquarius in the sheltered 12th House, we also have the nurturing Asteroid Ceres, Saturn and Pluto, though these two latter planets are in Capricorn. So I feel there will be a need to grapple with the less spoken about, or shadow side of our relationships. But with the Moon in opposition to that Ascendant, there can be a real opportunity to use our talents, warmth and sensitivity to the benefit of others.
Furthermore Venus, the planet of love, although in detriment in the sign of Aries, sits very close in Conjunction to the Wounded Healer Chiron, in the 1st House of this Full Moon Natal Chart. Where needed we can use the go-getting but softening balm of this combination to heal any tensions that may have emanated from the turbulent energies that have dominated this year.
Lastly, Mercury also forges a fine link to the Nodal Axis, which itself espouses the 5th and 11th Houses that reflect Leo/Aquarius energies, so keeping the lines of communication open, can prove invaluable, whatever the strands we are dealing with.
This Leo Full Moon in each Zodiac sign…
This Full Moon for Aries –  How much you love yourself comes sharply into focus. If you feel this is intact, this can be a time of progress. If you feel raw, less sensitive friends may not meet your needs.
This Full Moon for Taurus – Ambitions may continue to be strong, but a deeper feeling about one person or your emotional needs in a relationship context, may battle for your attention.
This Full Moon for Gemini –  Whatever anyone says to you, it is what they really mean that is so essential at this time. Be guided by sincerity – not just lively interactions.
This Full Moon for Cancer –  Your finances or sense of self worth can be improved in the next two weeks, but especially by links to kindred spirits, or someone keen to promote you professionally.
This Full Moon for Leo  – Your need to draw energy to your own needs is laudable. But you will probably also find yourself needing to be nimble to balance this with the support you want to share.
This New Moon for Virgo – There could be a mysterious connection or attraction which makes your pulse race or in contrast someone's lack of sincerity could disappoint.
This Full Moon for Libra – Your relationship sector gets a huge boost as Venus, your ruler, nestles next to Chiron, but are you trying to keep all of the people happy all of the time. But then, it may be hard to resist just now.
This Full Moon for Scorpio – Mercury's link to the Nodal Axis is the ace in your celestial pack just now. This can give you more word power, but with your feelings closer to the surface, what might you reveal Scopio?
This Full Moon for Sagittarius – Saturn has been especially limiting in terms of how you feel about you this last two years but now you CAN start to feel so much better, and also find just the right choice of words.
This Full Moon for Capricorn – Mercury in Pisces forges a wonderful link to the Point of Destiny, giving you a great opportunity to make progress around your creative strands. However joint finances may be an issue Capricorn.
This Full Moon for Aquarius –  Someone may feel you have been too caught up in your own plans of late. Might they have a point? Yet if you are of accepting of their viewpoint, the air can soon be cleared.
This Full Moon for Pisces – The physical demands of your situation, and life's practicalities can call out to you. But equally stay attuned to politics, especially at work.
https://www.bbc.co.uk/news/uk-43960958