2020 has not been short of astrological drama with feisty Mars storming into Sagittarius, and the electric powers of Uranus triggering links to Jupiter and Mercury. Now a stunning Lunar Eclipse in Cancer, pours its potent power into the next six months. To understand what this will mean for you PLEASE READ BELOW…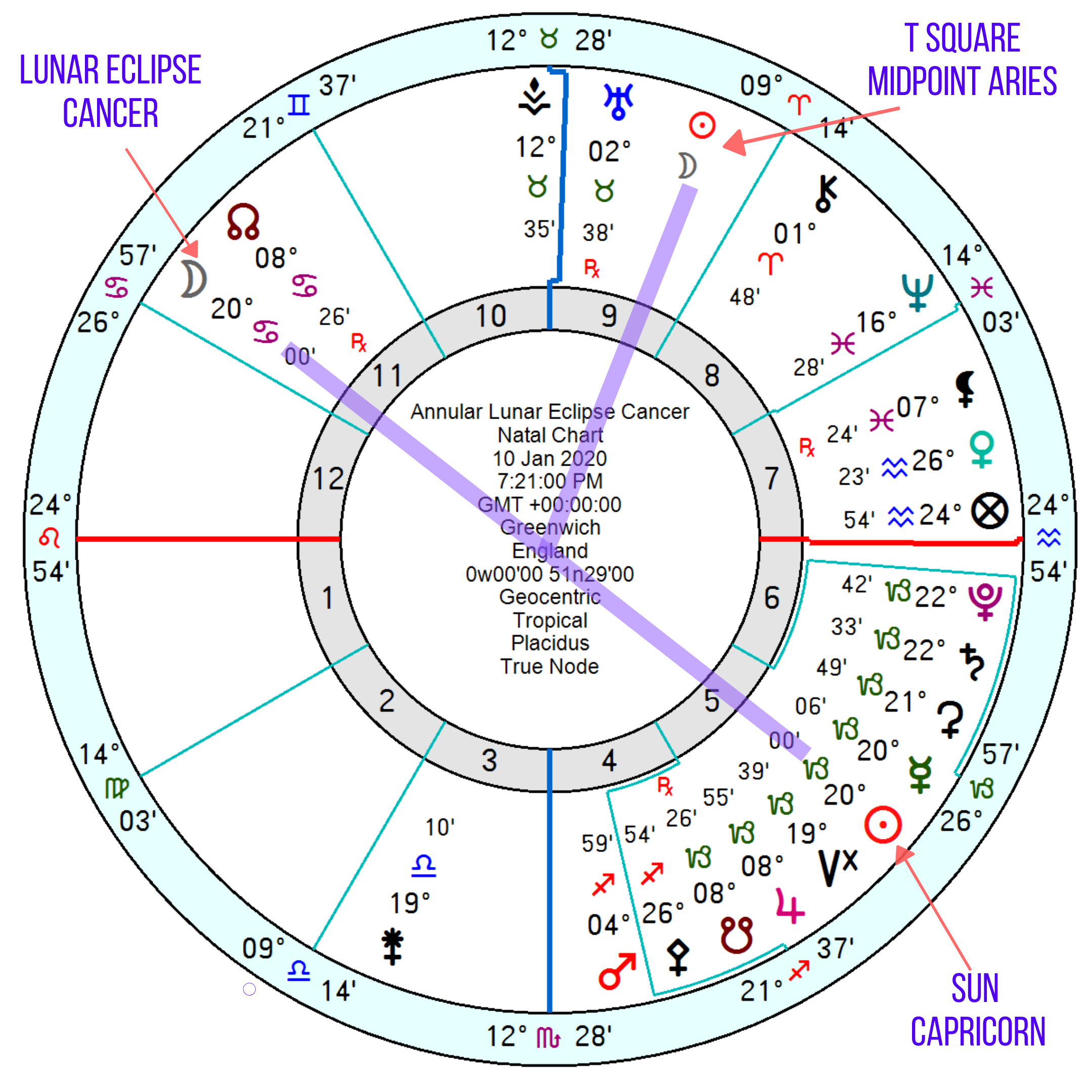 This Annular Lunar Eclipse occurs on the 10th January 2020 at 7.21pm GMT, and sees an opposition by the Moon to the Sun of course, but also Mercury, Ceres, Saturn and Pluto. The Ascendant of this event is 24 degrees Leo, which itself is therefore Quincunx Saturn and Pluto by 2 degrees. The Sun/Moon Midpoint is in the 9th House in Aries. Thus, I feel that international affairs will stay very much in the news.

We have seen some very bold developments in recent days, and some institutions (such as the British Royal Family) The United Kingdom, Iran, the USA all in the news and many other tension points.
The nurture of Cancer, but also the defensiveness of this sign, is at odds with its angular opposite Cardinal or leader sign of Capricorn, known for its dutifulness, steadfast energy, but also very traditional, sometimes fundamental response to an ever changing world.
This is an epic power battle, played out in the lens of social media, and public opinion. But then, Russia's development of a closed internal internet, is an example of how sheer raw power will not be given up easily, however much "feelings" or human rights are concerned.
For us all on an everyday basis, the focus of this eclipse is to care for the Earth (Capricorn) the sea and waterways (Cancer) to conserve where possible and balance our love of spending money and materialism with what is really necessary, and justifiable.
There are some very big cracks in some part of the status quo, but it is probably going to be towards the end of 2020, and more so from 2023 when Pluto enters Aquarius, when the full ramifications of this particular time are played out.
Lunar Eclipse Factoids…
-There are many Myths and Legends surrounding a Lunar Eclipse. The Inca, population for instance, told stories of a jaguar attacking the moon and turning it bloody, while the Batammaliba people in Togo and Benin interpret a Lunar Eclipse as the Sun and Moon working through a feud.
-A Lunar Eclipse could also be witnessed from the Moon. The dark Earth would block the Sun. This displays an outline of a brilliant red ring around the planet.
-Using his understanding of scientific facts, Christopher Columbus was able to accurately predict the occurrence of a Lunar Eclipse which took place in March 1504. He wanted to prove that the Moon disappears so that the natives of Jamaica will give him and his crew the food they desired.
https://www.timeanddate.com/eclipse/lunar/2020-january-10