Please TAP on each card for your interpretation. Scroll down to view...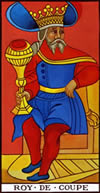 Past
King of Cups
Past
Self-control is good but you have been taking it too far, you have been blocking feelings that needed expression. Perhaps a mature person has used emotion as a means of controlling you. Time to accept your feelings and work with them.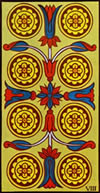 Present
Eight of Pentacles
Present
You're good at what you do, you can almost do your job without thinking. Not much of a challenge is it? Alternatively, whatever you want to achieve, the more effort you put in, the more you'll eventually harvest.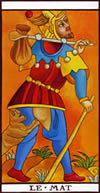 Future
The Fool
Future
There is a possibility of new beginnings and changes in the future. You may find yourself much more carefree and optimistic than usual. In relationships a wild and exciting friend or lover becomes central to your life. In matters of romance The Fool suggests erotic energy and pleasure, but unfortunately it also suggests a lack of commitment.