Please TAP on each card for your interpretation. Scroll down to view...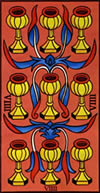 Past
Nine of Cups
Past
Have you been resting on your laurels? Your recent triumphs have been impressive, and you were right to feel proud. But are you perhaps becoming a little smug? Or is it that too much self-indulgence has been holding you back?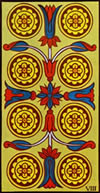 Present
Eight of Pentacles
Present
You're good at what you do, you can almost do your job without thinking. Not much of a challenge is it? Alternatively, whatever you want to achieve, the more effort you put in, the more you'll eventually harvest.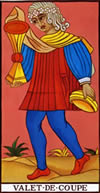 Future
Page of Cups
Future
Fantastic flirtatious fun, charming conquests and light-hearted love affairs power into the frame. All of which are exciting and thrilling, but don't forget the fabulous flames of love can't just spark brightly and they need to glow warmly forever.