Please TAP on each card for your interpretation. Scroll down to view...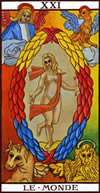 Past
The World
Past
Have you been seeing the world through rose tinted specs, and daydreaming too much? Perhaps you only saw what you wanted to see? Was your behaviour based on the expectations of others? The time has come to be more objective about yourself and your ambitions, you need to be more aware of who you are and take responsibility for yourself.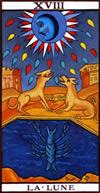 Present
The Moon
Present
You're a bit confused as to what to do next, be it with love, loot or life in general. Your fears seem to be holding you back and the way forward is to try and think what these fears are, and why they developed. On a much more positive note, your intuition is spot on right now, so do use it to your advantage.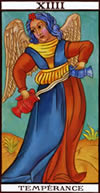 Future
Temperance
Future
You'll have to moderate your demands and see both sides of any disagreement. Ironically, this will enable you to see your own goals and ambitions more clearly. You will find yourself in a much more peaceful atmosphere of respect and harmony. If you've suffered emotionally in the past, this newfound Nirvana will help you recover your equilibrium.