Please TAP on each card for your interpretation. Scroll down to view...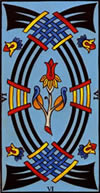 Past
Six of Swords
Past
You've felt small and overwhelmed by the storm waves of life. But although you have felt shipwrecked and lost in a hostile sea, the tide has begun to change, and it is pushing you towards a safe harbour.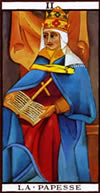 Present
The High Priestess/The Papess
Present
Try to look behind the illusion, what is really happening? Memories are so important for you now; they can give you understanding and inspiration. This is also a good time to follow your intuition and your instincts. Have you any talents you have been allowing to gather dust? Now would be a good time to explore and develop them.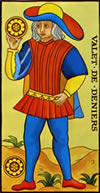 Future
Page of Pentacles
Future
Keep an eye out for a reliable employee, a practical pal, or even a monetary sage; someone who can help you make things happen. There's an opportunity coming up and you don't want to miss it. Just remember to be realistic.