Please TAP on each card for your interpretation. Scroll down to view...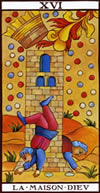 Past
The Tower
Past
A dramatic turn of events has left you reeling, there was nothing you could have done to prevent this, and it was outside your control. Perhaps what shocked you most was that all your defence systems were overridden, leaving you feeling vulnerable. But this was really an opportunity for liberation, a chance to move forward. Take it with both hands.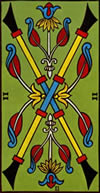 Present
Two of Wands
Present
You may be feeling omnipotent and believe you have The Midas touch, turning everything into gold, be it in career, education or love. But is this totally realistic? You're running the risk of overstretching yourself. Pride comes before a fall.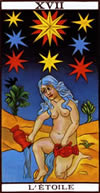 Future
The Star
Future
The most wonderful and exciting revelation may be coming your way. It can change your attitude and as a result, major aspects of your life. You'll gain motivation and drive, whilst maintaining an inner calm and serenity. This will lead to greater and greater success in any enterprise, be it romance, career or cash. Let the good times roll!