Please TAP on each card for your interpretation. Scroll down to view...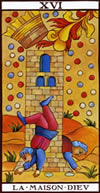 Past
The Tower
Past
A dramatic turn of events has left you reeling, there was nothing you could have done to prevent this, and it was outside your control. Perhaps what shocked you most was that all your defence systems were overridden, leaving you feeling vulnerable. But this was really an opportunity for liberation, a chance to move forward. Take it with both hands.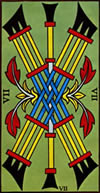 Present
Seven Wands
Present
Sometimes you have to stand up and be counted, and this is one of those times. Don't let yourself be bamboozled. The time has come to follow your beliefs and convictions, and be ready to face any opposition.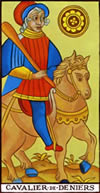 Future
Knight of Pentacles
Future
Your caution is commendable, your realism remarkable and both work wonders for your career. Just don't miss opportunities because you find change challenging. Make sure that your pragmatism doesn't pulverise your passion. Loved ones need to know what you feel.