Please TAP on each card for your interpretation. Scroll down to view...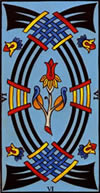 Past
Six of Swords
Past
You've felt small and overwhelmed by the storm waves of life. But although you have felt shipwrecked and lost in a hostile sea, the tide has begun to change, and it is pushing you towards a safe harbour.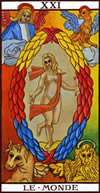 Present
The World
Present
You seem to be coming to terms with yourself as an individual, and this will improve your relationships with others. You may have met the ideal partner for you at this time, or even found a vocation. At this point there will be no turning back, you know instinctively you are on track and that the only way is forward.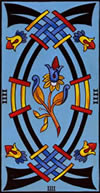 Future
Four of Swords
Future
This is a transition period between two sets of events. In the near future you need to have time to yourself, or even take a break just to clear your mind and get yourself ready for the adventures to come.