Please TAP on each card for your interpretation. Scroll down to view...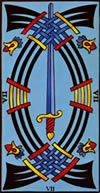 Past
Seven of Swords
Past
Did you cover your tracks well? Whatever it is you have done may well have been for the best of reasons, but all that effort might be wasted if others realise you have secretly been at the helm all the time.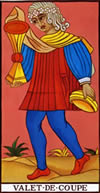 Present
Page of Cups
Present
Romantic and idealised love comes knocking on your door. Your amazing amour is imaginative, sensitive, light hearted and flirtatious. But don't forget the fireworks of first love will change to the glow of a mature relationship. Anticipate this change.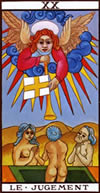 Future
Judgement
Future
You just can't hide from the facts - however you feel about them. But at least you will be able to express your opinions, make choices and grab opportunities. You'll feel a sense of relief after everything is out in the open. This will also mean that you will feel that you can forgive yourself and others for past errors.