Please TAP on each card for your interpretation. Scroll down to view...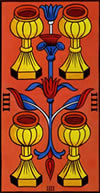 Past
Four Cups
Past
You have been feeling so apathetic and low, that you missed an important offer or suggestion from someone. Avoid a repeat performance and keep your eye on the ball. The more you interact with the world from now on, the better.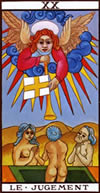 Present
Judgement
Present
It might be that the time has come to release old attitudes and this could be in relation to family, morals or a lover. You have begun to have new insights into relationship matters, this is a good time to start afresh, drop the past, and accept and take responsibility for your own actions. Just don't try to play the blame game.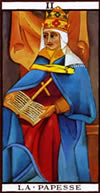 Future
The High Priestess/The Papess
Future
A secret will soon be revealed, or perhaps a problem that's been causing you a few sleepless nights will be solved. The answers may not be found in logical thought but in dreams and inspirations. A memory will become very significant in some aspect of your life and give you good guidance. You will succeed by following your intuition.